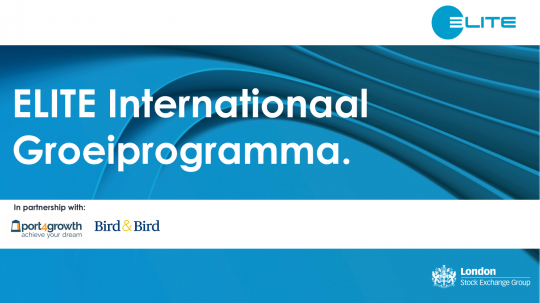 Het ELITE programma ondersteunt ambitieuze bedrijven bij toekomstige groei en investeringen. Zij biedt de bedrijven een unieke kans om hun potentieel te ontsluiten, een strategische visie voor de lange termijn te ontwikkelen en hen gestructureerde toegang geven tot de internationale financiële wereld.
Het programma richt zich op groeibedrijven met een gezond bedrijfsmodel, een duidelijke groeistrategie en een wens om in de nabije toekomst financiering te verkrijgen.. Het programma is "kapitaalneutraal", open voor elke financieringsmogelijkheid en geeft toegang tot diverse mogelijkheden zoals Private Equity fondsen, investeerders in risicokapitaal, leningen, enz.
Aanmelden: [email protected]
Unieke combinatie van Programma, Funding & Internationaal Netwerk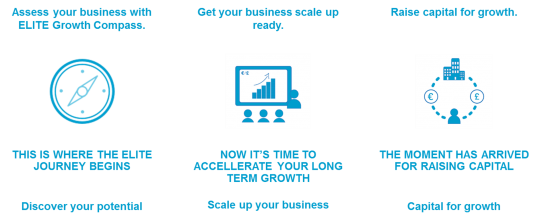 De resultaten van de ELITE bedrijven sinds hun deelname
ELITE heeft de financiële performance van de bedrijven die deel hebben genomen aan het programma en onderdeel geworden zijn van het ELITE netwerk gemonitord.
De resultaten laten zien dat de groeibedrijven naar mate zij langer deel zijn van het netwerk beter en sneller groeien ten opzichte van vergelijkbare bedrijven in vergelijkbare branches.
Ervaringen van deelnemers:
François Bieber Founder and CEO KWANKO - France
"ELITE gives us the access to an ecosystem of high-quality growth pan-European companies. The programme allows us to better address the key steps of the change of scale of a high-growth company and the opportunity to utilise the experience of our contemporaries. It is invaluable and it saves us precious time."
Anthony Fletcher CEO Graze – UK
"It's a fantastic programme. graze is a business competing on a world stage and the opportunity to utilise the experience and learnings of our contemporaries is invaluable. Through the programme we have gained expertise and confidence allowing us to continue to place technology at the heart of our business and aspire to build a world class operation."
Het pad naar internationale groei
1 Training
Voor groeiondernemers en managers. Verzorgd door ervaren internationale professionals, experts en door de wol geverfde ondernemers. Zij inspireren en faciliteren naar belangrijke cultuur en organisatieaanpassingen. Zij evalueren samen met de bedrijven de financieringsmogelijkheden helpen het financieel lange termijnplan te ontwikkelen.
2 Mentoring
Nieuwe inzichten en toepassing van managementpraktijken, leggen van het juiste financiële fundament en bestuursstructuur voor internationale groei. Gedegen voorbereiding voor internationale financieringswereld. Ondersteuning door team van externe experts.
3 Network
Kapitaliseer op de vernieuwing van het eigen businessmodel en maak gebruik van de toegang tot nieuwe business, netwerkmogelijkheden en opties voor funding. Maak net zoals 1000 ambitieuze groeibedrijven onderdeel uit van het grote internationale netwerk van ELITE en pas de voordelen toe van de ELITE community met adviseurs, investeerders en andere stakeholders.
Programma 2020
Het programma kent vaste en keuze modulen.
London 18 en 19 november 2019 (CEO/CFO/Founder)
Vast:Core Strategy
Create a structured framework for developing your strategy and identify your vision, mission and core challenges.
Netherlands 12 december 2019 (CEO/CFO/Founder)
Vast: Cooperative peer learning and intervision session
Peer support enables the entrepreneurs to help each other for personal development and even organisational development.
Keuzemodulen: Growth Labs
Het programma kent een aantal keuze modulen "Growth Labs" die gericht zijn op de belangrijkste groeiuitdagingen. Deelnemers kunnen een keuze maken uit deze modulen.
London 15 en 16 Januari 2020
Growth Labs
Keuze: 'Growth Story'
Improve the way you articulate your vision and pitch your business to clients, stakeholders and investors alike.
Keuze: 'Systems'
Facilitate large transformations that enable your company to operate more effectively.
London 27 en 28 Januari 2020
Growth Labs
Keuze: 'People part 1'
Strategic People Management: Attract, Reward & Retain the Right Talent - Building a Culture to Attract & Grow Talent
en Keuze: 'People Part 2'
Developing HR Functions: Measuring & Developing Performance, Reward Frameworks & Incentive Planning
London 3 en 4 februari 2020
Growth Labs
Keuze: 'Corporate Governance'
- Corporate Governance for Growing Businesses
- Crisis Management
- How good corporate governance drives shareholder value
- Corporate Governance as a Listed BusinessCorporate Governance: The Investor Perspective
- Building an Effective Board: Recruiting NEDs, Directors Duties , Board Evaluation
en Keuze: 'Risk Management'
Understand risk factors and evaluate practical methods for recognising and managing them.
London 5 en 6 februari 2020
Growth Labs
Keuze: 'Markets'
- Branding
- Customer Centricity
- Inspiring Speaker: Industry Perspective
- Internal Marketing
- Understanding your Competition
Keuze: 'Internationalisation'.
Identify the right route to new markets and unpick the challenges faced by companies internationalizing.
London 11 en 12 februari 2020
Growth Labs
Keuze: 'Funding & Exit Planning'
Navigate the funding landscape and learn about the relevant fundraising options for your company.
en Keuze: 'IPO & Beyond'
- Does it make sense for your company?
- Selecting your Advisors
- Introduction to the IPO Process
- The Investor Perspective – What are investors looking for?
- Life as a Public Company – The Role of the Equity Analyst
- Life as a Public Company – Developing a Communications & IR Strategy
London 8 en 9 april 2020
Growth Labs
Keuze: 'Innovation'
Explore different types of innovation and ensure you have the right framework in place to foster new ideas within your organisation.
en Keuze 'Digitalisation'
Identify, leverage and integrate new technologies to enhance your business.
Netherlands 9 maart 2020 (CEO/CFO/Founder)
Vast: Cooperative peer learning and intervision session
Peer support enables the entrepreneurs to help each other for personal development and even organisational development.
London 20 en 21 april 2020 (CEO/CFO/Founder
Vast: Communicating your Strategy
Learn how best to articulate your strategy and develop an effective company presentation that can be used for fundraising and beyond.
London 30 april 2020
Vast: Entrepreneur Day
A full day event featuring selected high profile speakers from the ELITE Community – topics explored included:
- What kind of leader are you and why does it matter so much?
- Being an effective leader of a growing business
- Communicating with authority & empathy
- Responsibilities of today's leaders
- Personal brand: Turn your profile in to an asset.
Netherlands 15 juni 2020 (CEO/CFO/Founder)
Vast: Cooperative peer learning and intervision session
Peer support enables the entrepreneurs to help each other for personal development and even organisational development.
Vereisten voor deelname
Commitment to participate in the programme and motivated to implement valuable changes
High quality and ambitious company
Desire to obtain funding in the future to accelerate growth
Internationalization should be on the company agenda
Credible company management
Evidence of past growth and future potential
Kosten
Een bedrijf neemt met minimaal 2 personen deel. Per persoon bedraagt de financiële bijdrage € 9.000 per jaar exclusief btw, reis- en verblijfskosten. Dit bedrag is inclusief € 1.500 per persoon voor de intervisiesessies en coaching voor de Nederlandse deelnemers. Per bedrijf is voor 2 personen de bijdrage in totaal € 18.000. Voor het tweede jaar geldt een bijdrage van € 13.000 voor twee personen.
Aanmelden en selectie door ELITE Admission Commitee
Kandidaatbedrijven kunnen zich via [email protected] of [email protected] aanmelden. Zij krijgen het ELITE Admission formulier toegezonden en dienen dit ingevuld samen met het laatst mogelijke jaarverslag, bedrijfspresentatie en organisatieschema in te zenden naar een van de bovenstaande email adressen. Op basis van deze gegevens eventueel aangevuld door de beantwoording van specifieke vragen van de ELITE Admission Commitee wordt bepaald of voldaan is aan de toelatingseisen en het bedrijf kan deelnemen
Informatie en aanmelden
Port4Growth tel +31 30 6866370
of via: [email protected]
Bird & Bird tel +31 70 353 8915